Luís Simões incorporates two new Gigaliners
13 Jun, 2022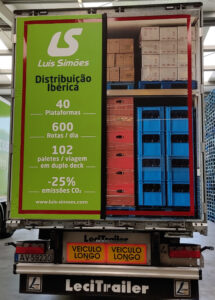 Luís Simões continues to focus on sustainability, innovation and safety, which is currently materialized by putting two new Gigaliners into circulation.
These vehicles, composed of a tractor-head, a linktrailer and a semi-trailer, are characterized by their greater capacity, as they have double deck (two levels/heights).
These two Gigaliners are capable of transporting two levels of pallets without overlapping them, which optimizes loading, guaranteeing the integrity of the transported products, and at the same time reducing travel. In this way, the compliance with sustainability standards is ensured and a more efficient and ecological transport model is promoted.
Innovation and sustainability:
the DNA of Luís Simões
As a benchmark company in the sector, Luís Simões is always committed to involving its employees and clients in the latest innovations in terms of transport and sustainability. For this reason, these new vehicles join the 11 Gigaliners already circulating on the Iberian Peninsula and which began to be implemented in 2014.
Since then, this solution has enabled more than 400 tonnes of CO2 to be reduced and has led to greater efficiency and a lower operating cost in terms of transported tonnage. Furthermore, as a consequence, the wear and tear on the roads is also lower, with up to a third less pressure on the road; firstly because the weight per axle is lower, and secondly because two Gigaliners replace three conventional sets of tractor-head and semi-trailer.
"As we have seen in recent years, Gigaliners bring countless advantages, which is why we continue to work to recommend to our clients the increase in the operational and environmental efficiency of their operations. At Luís Simões we believe that it is necessary to work towards building a more sustainable and beneficial transport future, and we have the ambition to lead this change", says Cláudia Trindade, Iberian Fleet Manager at Luís Simões.